The Labrador Nursery
updated 12/28/16
We do not have any litters planned here but our stud dog, Maks, sired a litter born in mid November, 2017.
Linda Brown at Fast Jet Labradors has one yellow female available from this litter and can be contacted at fastjetlabradors@gmail.com if you want more info.
RLZ Labradors had an all yellow litter of 7 (Kiska X Maks) born 6/9/17. There are plans to repeat this breeding in spring of 2018 and you can contact RLZ Labradors for more info.
Fall, 2016:Diamond, (co-owned with Pat Kroll of Honorbright Labradors), was bred to Enzo.

Diamond had 3 black females and 1 black male on 9/14/16. All are in their forever homes.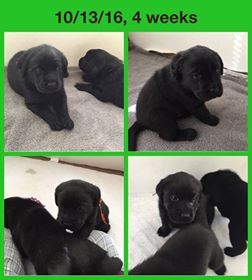 Diamond's pups are 4 weeks old.
4 weeks old

5 weeks old.

Past litters:
Summer was bred to CH Sunchase Ania's Rigamarole WC (Riggs). She had two yellow males on 4/9/14 who both have wonderful homes.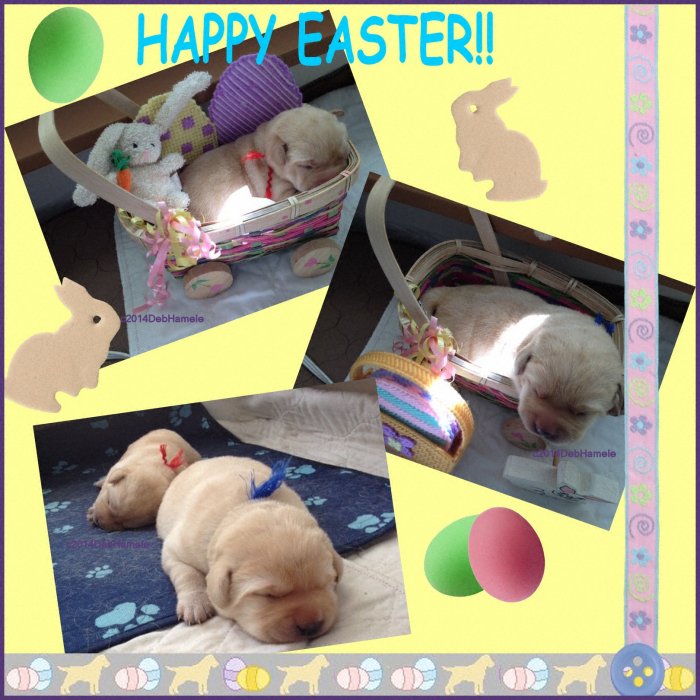 Summer had puppies on 7/25/12! Sire is Rogue (BISS Grand CH Laurglen Ardent Rogue at HySpire). She had 1 black boy, 2 black girls and 1 yellow girl. We gave them all nicknames since they are all unique. Pups are doing great in their new homes. Enjoy the photos from when they were here.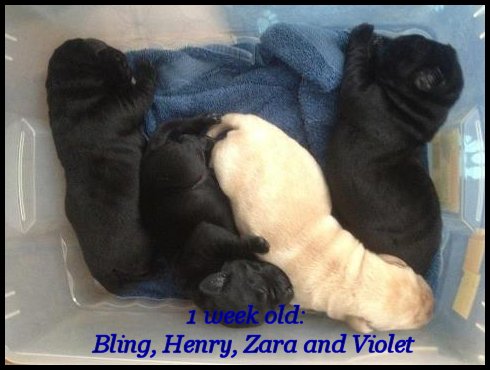 Summer's 2012 puppies.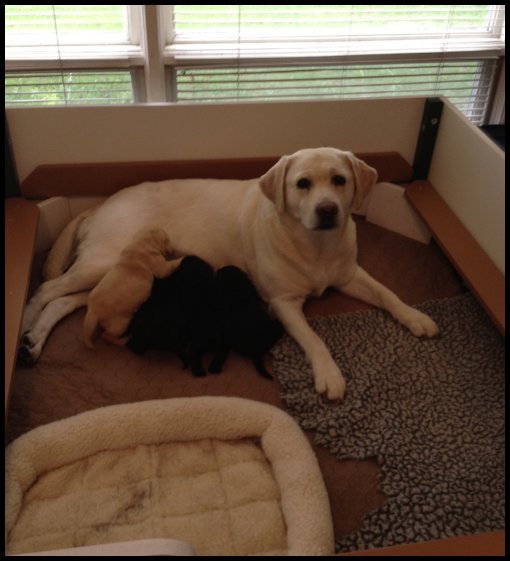 Summer and her puppies 3 weeks old.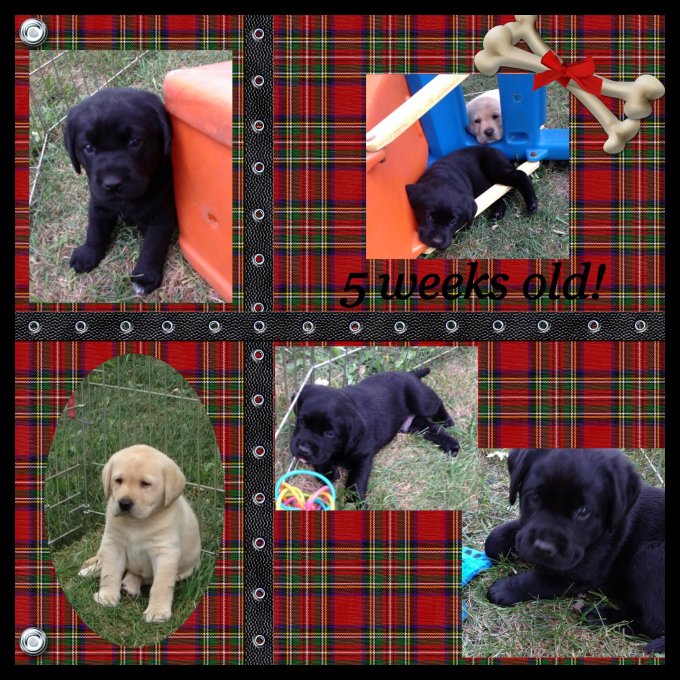 Summer's Puppies 9/1/12.
Here are links to some videos of the puppies:
Lab pups, 5 weeks old
The puppies playing with a 13 week old frenchie puppie.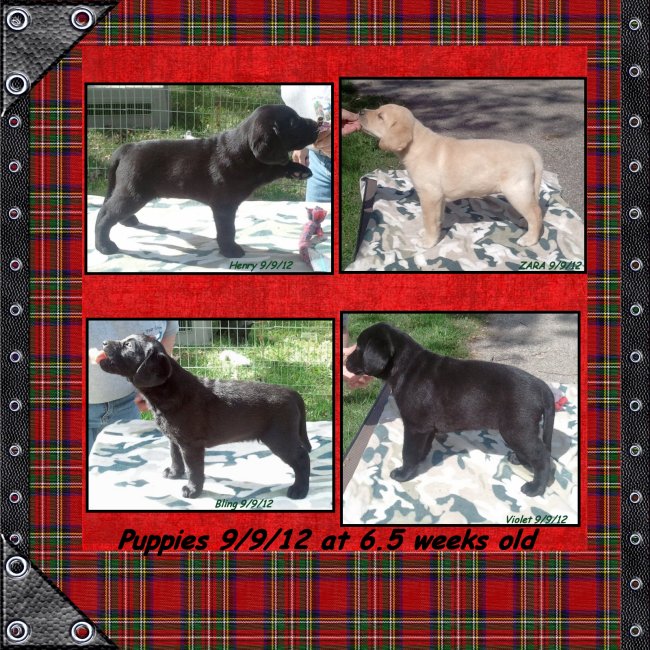 Summer's Puppies 9/9/12.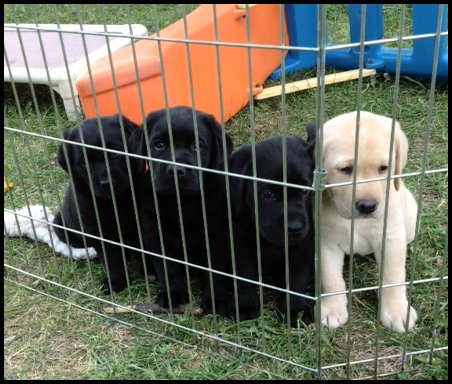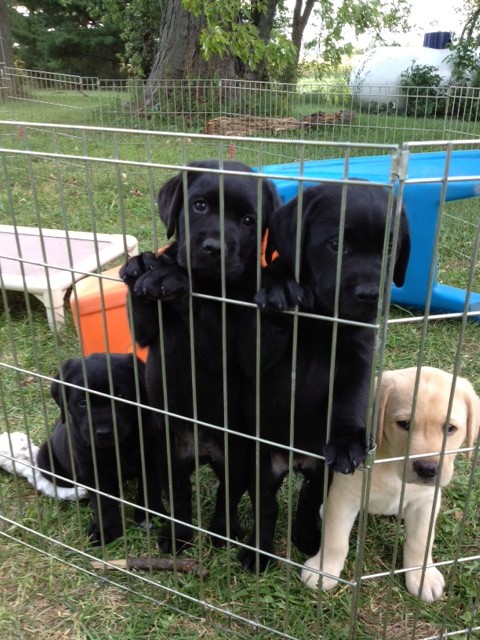 Summer's Puppies 9/12/12.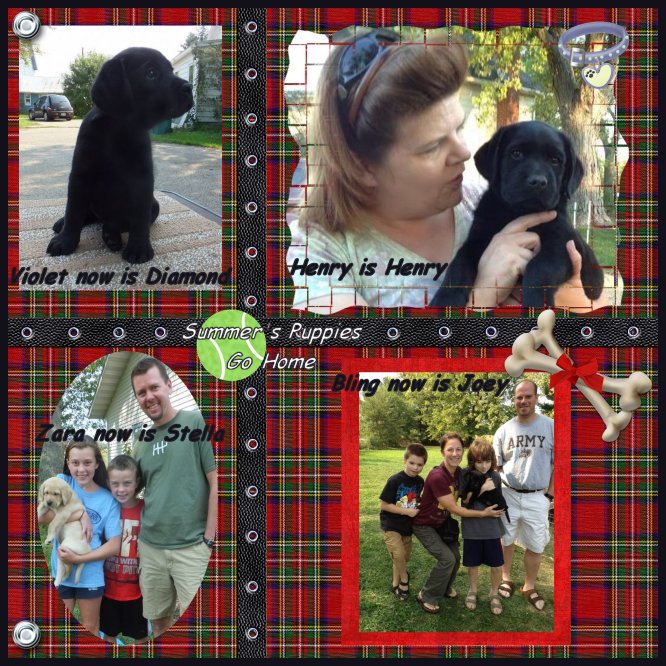 Another chapter in our lives ends 9/16/12 as Summer's puppies go home. We are delighted with the great homes they all have but it is always bittersweet when they leave. Love you babies....
Summer had a litter sired by Calypso June 17, 2010. Photos of that litter are below.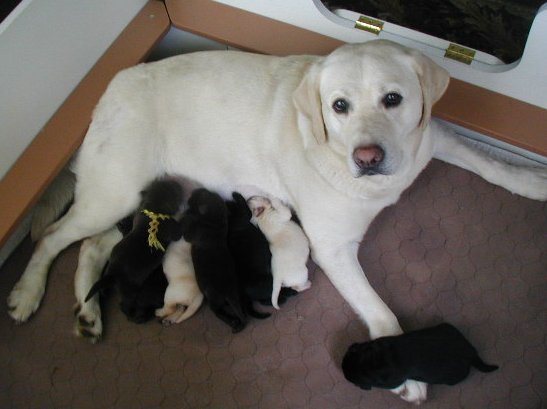 Summer's pups 5 days old.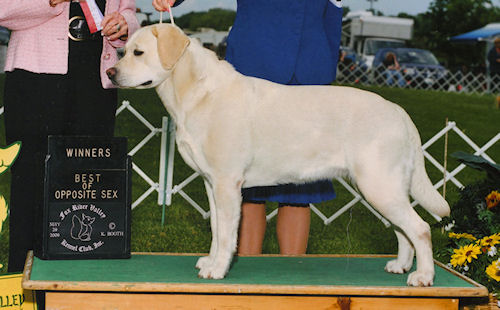 Summer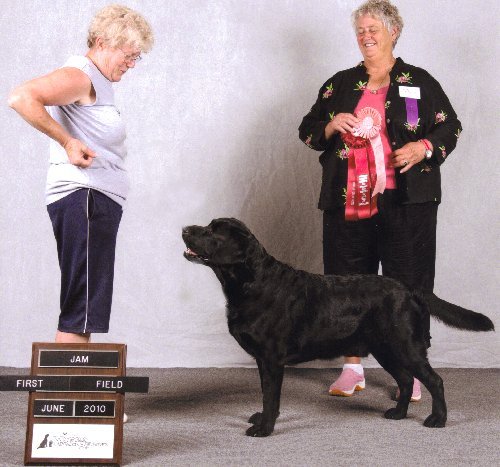 Calypso (6/19/10, winning a Judges award of Merit at the WLRC Specialty)
Pups were born on 6/17/10. We were pleasantly surprised to find that there were chocolate pups as well as blacks and yellows. Final count is 1 black male, 1 black female, 1 yellow male, 1 yellow female, 2 chocolate males, 1 chocolate female. All pups are now in their permanent, wonderful homes. Here is a link to more details about the pups and how we raise them on my blog. Hope you enjoy reading it!
We kept the chocolate girl now known at Dunn's Marsh Chocolate Martini.
On July 10th, 2011 Marti passed the Winnebago Lab Club's Working Certificate test and on August 7th Marti earned her AKC Junior Hunter Title! Our little Marti loves retrieving birds, bumpers, whatever you ask her to get! She also has a UKC Started Hunt Test pass and will now go back to UKC to finish that title.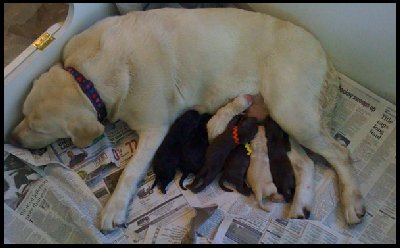 Summer's new litter.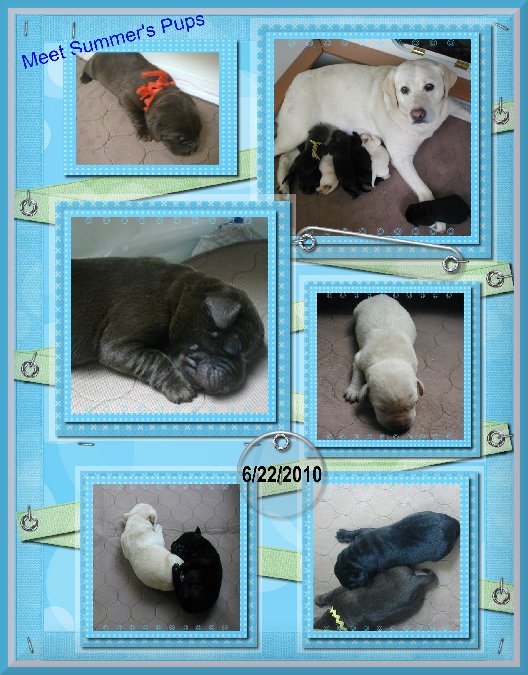 Meet the pups.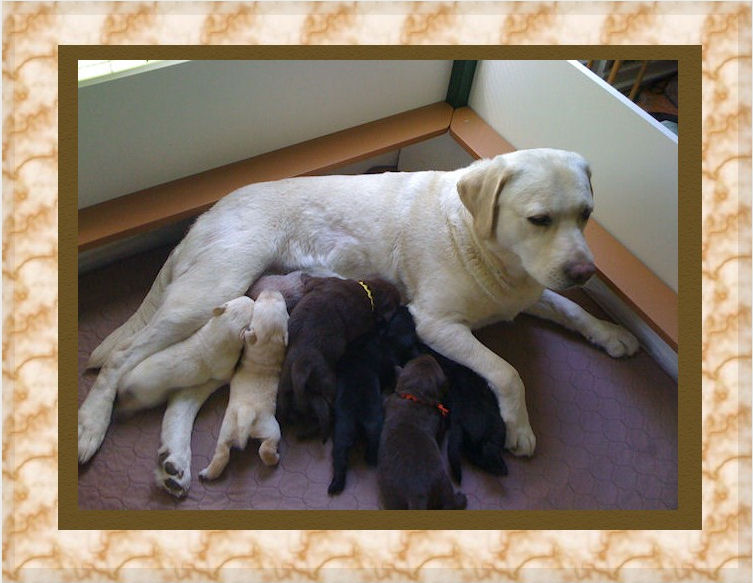 2 weeks old, big size difference compared to days 1 and 5 photos!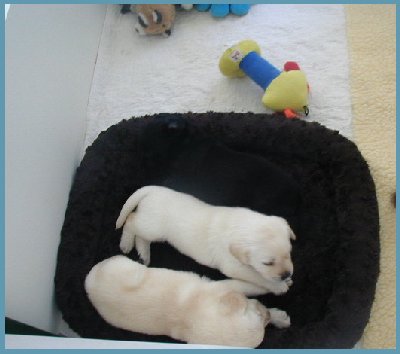 4 weeks old!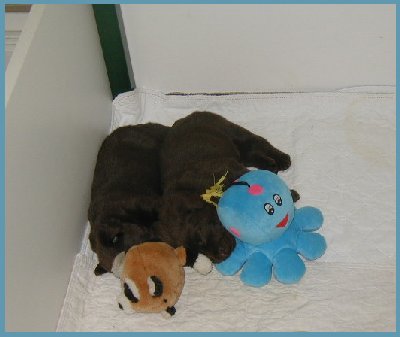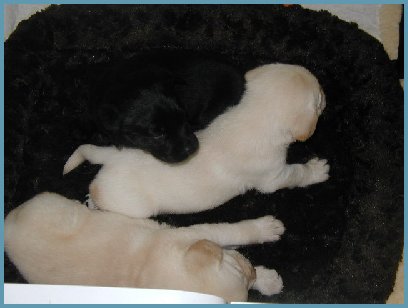 There is a black and chocolate somewhere in that bed!
Please note we do NOT sell puppies over the internet. We only have occasional litters and prospective owners are interviewed and references are requested. We care about the homes our puppies go to so we prefer to meet you in person to make sure you are a right match for any available puppies. We only place puppies with those who can commit to having a dog for up to 14 or 15 years since we have good longevity in our blood lines. We do understand that life circumstances can change and in that rare case where a family had to give up a puppy we have placed, that dog would come back to us no matter what age (this has happened only twice in over 20 years).
Contact debh @dunnsmarshlabs.com for more info on our dogs.
Here is a recap from our 2/05 litter that we have left up so others can see the work and loving care that goes into raising a litter of puppies at our house. Each litter is raised in a similar manner to the one followed in this diary. We hope that sharing some of our experiences with raising a litter will be informative to those thinking of purchasing a Lab puppy in the future or possibly breeding their Labrador Retriever.