CH Honorbright Dunn's Marsh Song and Dance JH RATO WC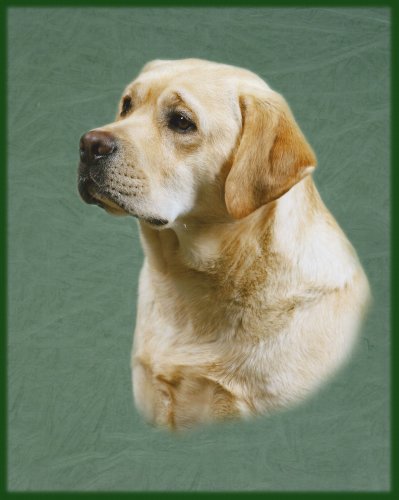 Maks, 10 months
He is co-owned by me, Pat Kroll, and Charlene Moser
DOB: 4/9/2014
Hips OFA Good
Elbows OFA Normal
PRA, CNM, DM clear
HPNK carrier (can only produce if bred to another carrier)
EIC clear by parentage. Eyes cleared yearly (last exam 3/25/17).
Pure for Labrador (DD), carries chocolate, does not carry black and tan gene
Maks is available at stud to approved bitches. Contact Deb at debh @dunnsmarshlabs.com (leave out space after debh) for more info about Maks.
Maks earned his JH in four straight tests and finished his AKC Championship a couple of weeks later. As of early 2017 Maks is half way to his Grand Championship. He also earned his RATI (instinct) and RATN (novice) Barn Hunt Titles in one weekend in February, 2017. He has plenty of drive for competition but has an "off switch" making him a wonderful companion in the house. Rally,obedience and possibly agility are also in his future.
His first litter arrived in March, 2017 and several more litters are due shortly. (photos coming soon) Some of these pups will be entering service dog training and we are excited to see their progress.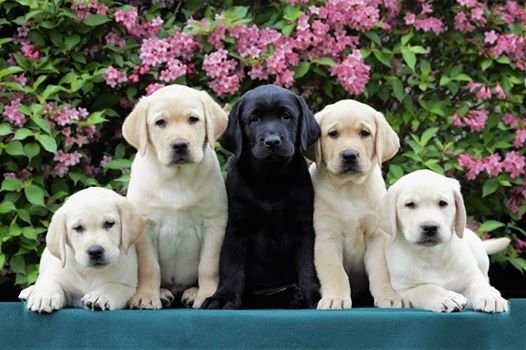 Maks puppies age 8 weeks.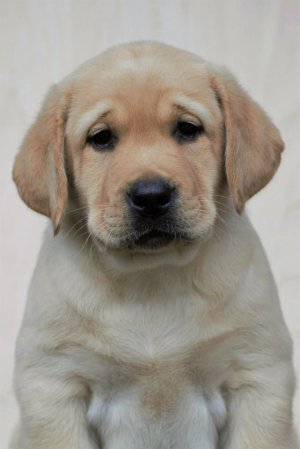 Badger is going to a diabetic boy to become a Diabetic Alert Service Dog.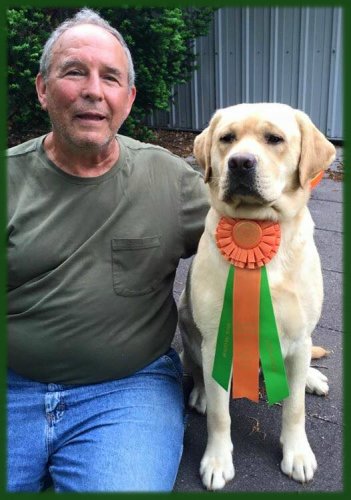 This photo is with his trainer and handler Earl Thomas. He is now in training for Senior Hunt Tests.
July, 2017, Maks passed his first two UKC Seasoned Hunt Tests (similar to AKC Senior tests).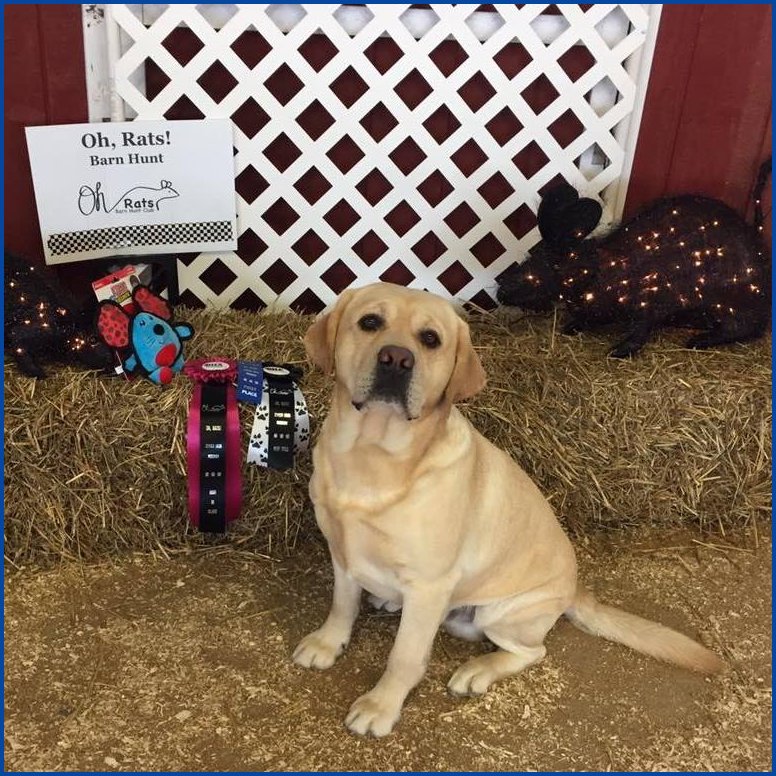 Maks earned his Open Barn Hunt Title 5/14/2017.
Maks earned his AKC Senior Hunter Title 9/9/17.
Maks earned his Senior Barn Hunt Title 9/17/17.
WD, Best of Winners – Cyclone KC of Ames, 2-14-15 – Three point major at 10 mos.
WD, Best of Winners – Cyclone KC of Ames, 2-15-15 – Two points
First place 9-12 mos class, Badger Labrador Retriever Club, 3-1-15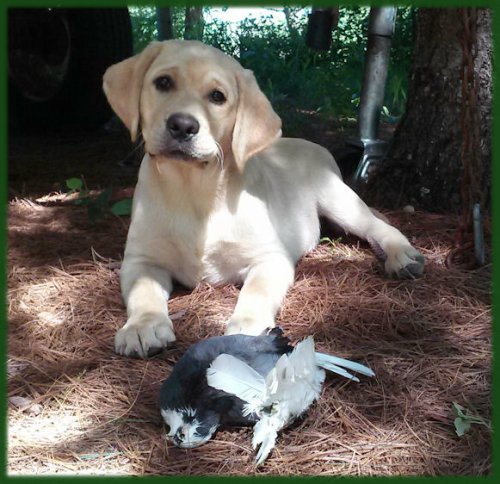 Proud of his first bird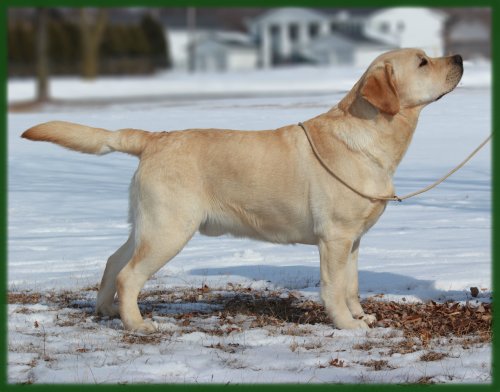 10 months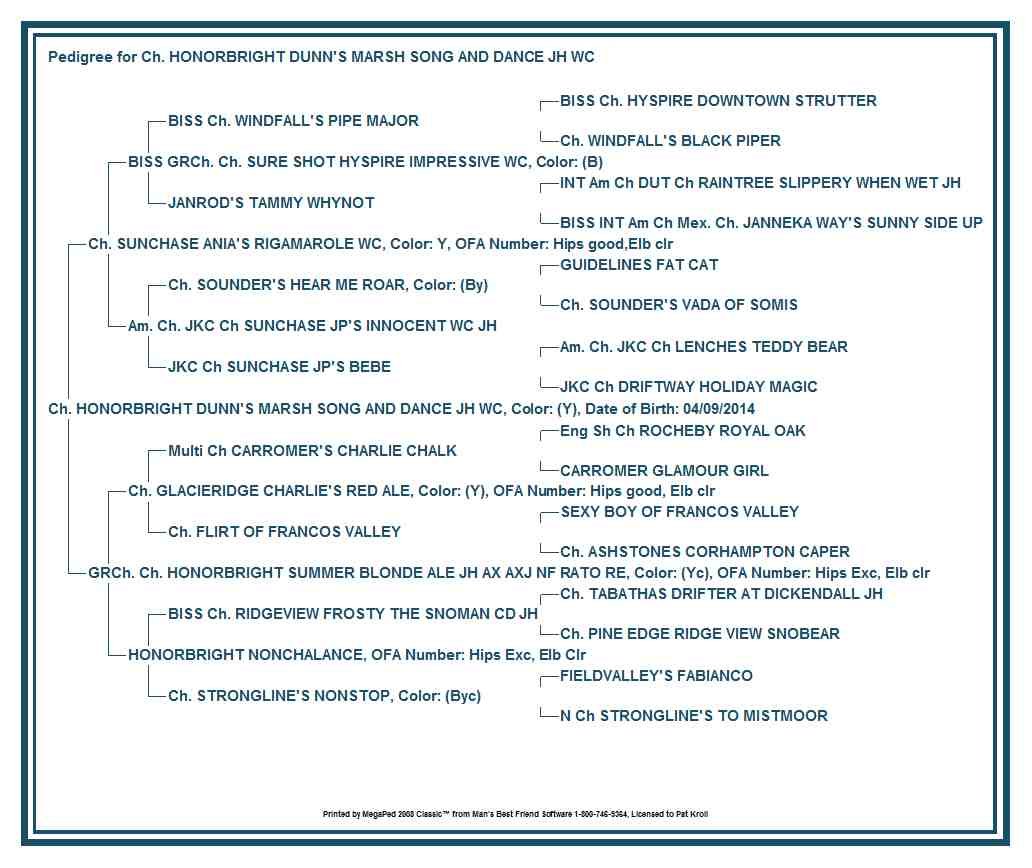 Maks' Pedigree