Our Pugs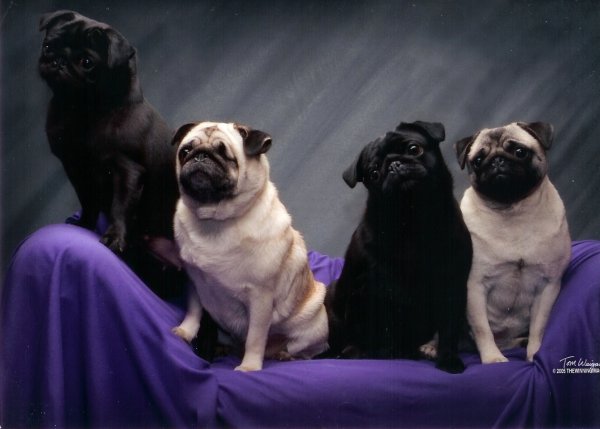 From left to right: Sprout, Lily, Sprite and Ruby.
We obtained our first Pug, Lily, in 2000. As Lily's breeder, Kay Sisson of J-K Pugs had told me, "Pugs are like potato chips, you can't have just one". In 2003, Ruby joined our family and in 2004, Lily had her first and only litter (photos of the litter) from which we kept Sprout and Sprite. Sadly we lost our beloved Lily on 3/18/06 to sudden tracheal collapse. We miss her so much.........
Ruby is retired, spayed and has gone to live with our friend Penny where she is queen of their house and her husband's lap!
In August of 2006 a sad little rescue pug came to be fostered and never left. I truly believe Lily sent Buster to comfort me. We are now competing in agility and rally after 4 years of hard work to get Buster to trust and want to work as a team. On 3/18/11 Buster finished his AKC rally novice title and on 3/19/11 Buster finished his Novice Agility title! (Buster is neutered.) He has also completed some NADAC titles in 2012 and 2013.
Our Labs, Pugs and Am Staffs get along great!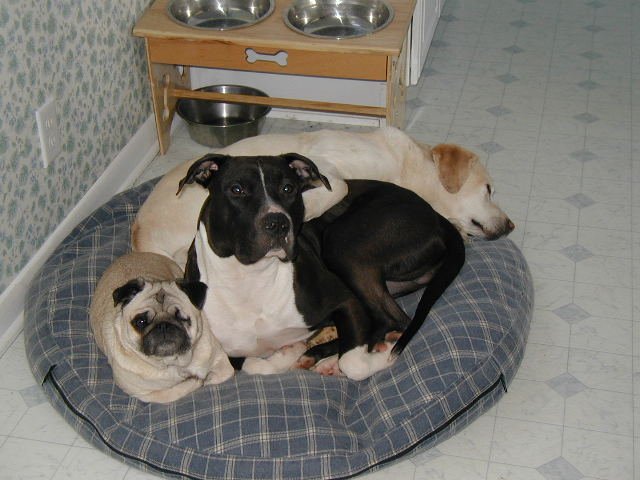 Friends ask if we are giving our Labs up. The answer is "no" but I can say that the pugs have enhanced our lives and we enjoy them very much. Both Sprout and Sprite are spayed so we are not breeding pugs.
Pug friends come to visit!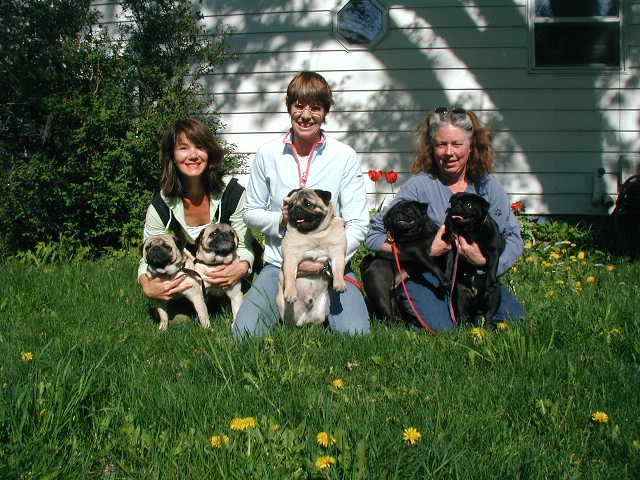 From left to right -- Maria with Freddy and Chucky, Ashley with Spike and Deb with Sprout and Sprite.
Just for fun......Photos from Pugapalooza -- a fun afternoon with a LARGE group of pugs (they lost count after 70!