At Dale Creek Gundogs our goal is to produce a well-rounded, quality gundog that has been exposed to many real life hunting situations. This ensures that the owner and his/her dog will have a successful working relationship.
Dale Creek Gundogs is located near Burlington, Wisconsin -- a short drive from Chicago, Milwaukee, Madison and Rockford -- on a 90 acre parcel of land. Our new location is N 6810 County Road DD, Burlington,WI 53105 - County Road DD runs north off Highway 11 just west of Burlington. The kennel is north of Honey Lake and South of Honey Creek (which is on Highway D) at the edge of the Racine-Walworth County lines. There are training areas right on the property and close access to training ponds.
Owner/trainer is Tom Waite.
We will be offering one more weekend long training seminar in 2009. A Retriever Seminar will be held June 26, 27 and 28th. Download a flyer for more information.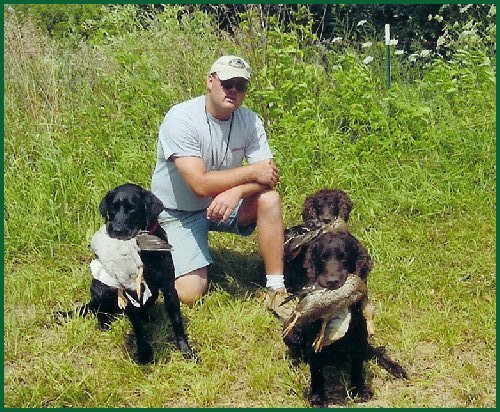 For more details
call: 262-514-4747 or e-mail us at: dcgdogs@tds.net.