Everything started with Abbey....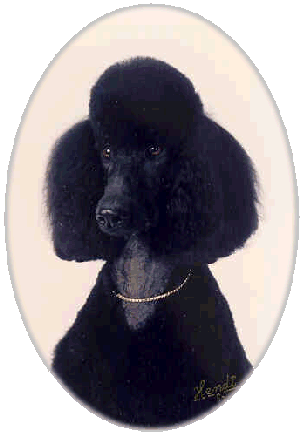 U-AG I, U-SH, U-CDX Ravendune Abbey At Last, CDX, NA, CGC, WC, VCX
12/16/92-2/27/07
This page is in honor of Abbey, my first Standard Poodle.
On December 16, 1992 the birth of a little black standard poodle puppy changed my life. Ravendune Abbey At Last "Abbey" was flown to me by her breeders, Todd Patterson and Jerry Edwards of Ravendune Poodles on February 5, 1993. She popped out of the crate with her little tail wagging and gave me kisses all over my face. Abbey opened the door to learning how to train dogs to be good citizens and to compete in obedience, agility, hunting, conformation and tracking events.
My only intention when signing up for a puppy socialization class with Abbey was to have a well behaved dog I could take any where! I enjoyed training Abbey so much that I never stopped taking classes from that point forward. An instructor suggested that I take a competition obedience class with Abbey because she was doing so well in puppy kindergarten. From there I was addicted to training and competing with my dogs.
Training a dog to be your partner in competition creates a very special bond with that dog. Since Abbey was my first Standard Poodle and my first dog to train, we enjoyed a very special bond that can't be repeated.